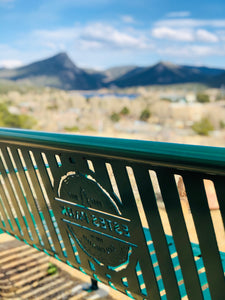 In all the world, there's only one Estes Park!
When I tell people I live in Estes Park, Colorado, the response is generally consistent. I hear comments such as, "You are so lucky" or "I love Estes Park" or "I wish I had a home in Estes Park." There are no bragging rights in sharing this. It is truly a statement of blessing. For the almost 6,000 people who call Estes Park home, it is indeed a privilege. And, the over three million visitors who come to Estes Park each year know why it is such a blessing.

Estes Park is unlike any place else. It is a mountain village nestled at the base of the exquisite Rocky Mountain National Park. Estes Park's backyard boasts of 355 miles of hiking trails and some of the most majestic scenery in America. It sits perched at a proud 7,522 feet above sea level. Estes Park is surrounded by massive peaks including the world class mountain known as Longs Peak, climbing to an incredible 14,259 feet. Forests fill the hillsides, wildlife abounds, and charm exudes from this Colorado country.

Estes Park and Rocky Mountain National Park are loaded with an array of opportunities for everyone. Whether you are by yourself, with your family, or with your spouse, there are plenty of things to do for people of all ages. Assortments of lodging facilities are available as well as numerous restaurants. The streets of Estes Park are lined with specialty shops and unique businesses always ready to welcome locals and visitors. The visitor's center greets thousands of people each month and is eager to provide information to guests. A calendar of town events offers a myriad of activities, festivals, and celebrations throughout the year.

If you have not done so yet, please make plans to visit Estes Park in 2014. You won't regret it. In all the world, there's only one Estes Park!
---