Transportation
Free Shuttle Buses
The simplest and most stress-free way to steer through Estes Park is via the free shuttle system. The downtown trolley and shuttle bus routes allow you to park the car, bus or RV at one of the major hubs and be on your way. You no longer need to listen to the GPS 'recalculate' or to all five back-seat drivers offering advice on where to park! The five town shuttle routes and the Rocky Mountain National Park hiker shuttle are easy to navigate and will get you just about anywhere you want to go.
Where to Park
The largest parking area is the Park & Ride stop located at the Fairgrounds at Stanley Park at 1209 Manford Avenue, just east of Highway 7 and south of Highway 36. This parking lot is serviced by the Green  and Silver Route daily. Public restrooms also are found at this location.
The Estes Park Visitor Center offers guests parking, with the new Estes Park Parking Structure hosting 412 spots, restrooms and access to all five town shuttles, including the downtown trolley, as well as the Rocky Mountain National Park hiker shuttle. Located at 500 Big Thompson Avenue, the visitor center also provides free Wi-Fi and visitor information.
With shuttle routes passing nearly every lodging property in the Estes Valley, you likely can hop on very close to your hotel - avoiding driving and parking altogether. View and download the at estes.org/shuttles to locate the route closest to your hotel or cabin. All town shuttles link to the Rocky Mountain National Park hiker shuttle as well, so park access is virtually outside your door!
Routes
There are five town of Estes Park free shuttle routes and three Rocky Mountain National Park shuttles, covering all highways and major routes through the Estes Valley. For additional shuttle information call 970-577-9900, a handicapped-accessible bus is available by calling 970-586-4920. Transportation to Trail Ridge Road is provided through local Tour Operators.
Estes Transit (free shuttles)
In 2019, town shuttles will operate daily from June 22 through September 8. All shuttle route and stop information is available at estes.org/shuttles
Rocky Mountain National Park Seasonal Shuttles
The Rocky Mountain National Park shuttles operate from late May through early October and offer hikers and day-trippers easy access to the most frequented areas of the park. Entry fees do apply and park passes are available for purchase at Rocky Mountain National Park Visitor Center and entrance stations. You can also buy 1-day, 7-day, and annual passes online here. View and download a map of the park shuttles here.
RMNP Shuttle Routes: 2019 Shuttle Info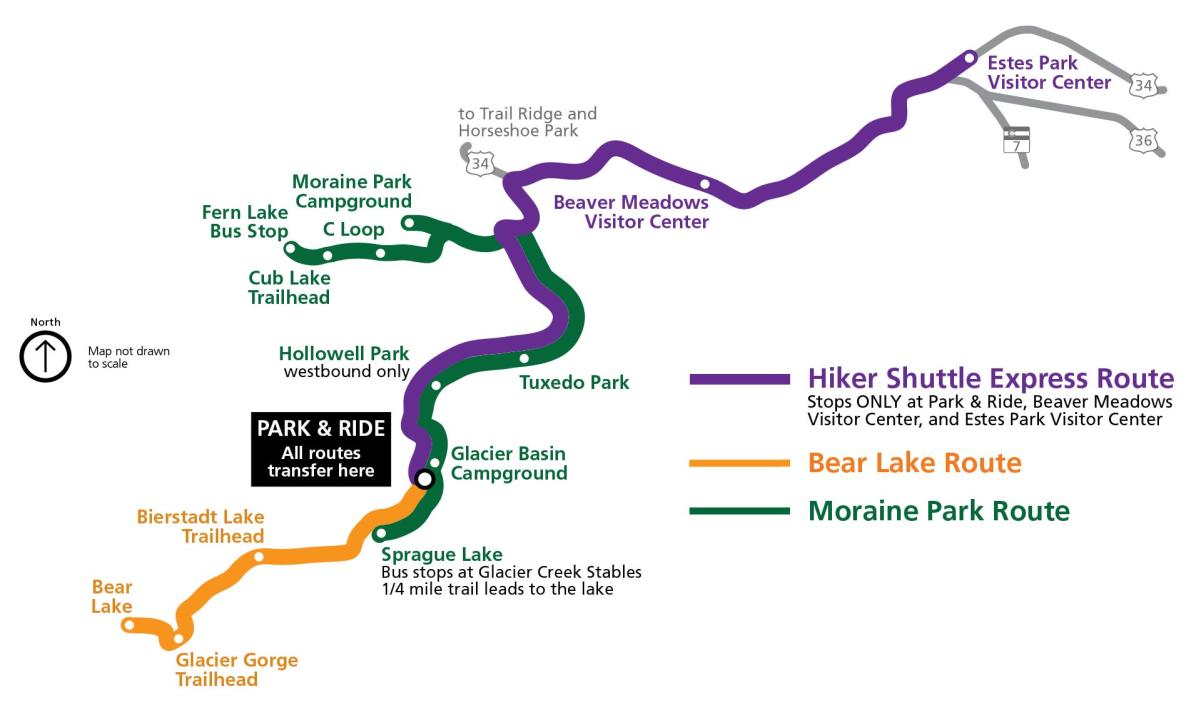 Hiker Shuttle Express Route

Daily Service May 25 - September 13, 2019 then weekends September 14-October 20
Stops only at Estes Park Visitor Center and the Park & Ride on Bear Lake Road
First bus leaves the Estes Park Visitor Center at 7:30 a.m. and last bus leaves Park & Ride at 8:00 p.m.
Hiker Shuttle runs hourly from 7:30 a.m. - 10:00 a.m. every 30 minutes from 10:00 a.m. - 6:00 p.m. and hourly 6 p.m. to 8 p.m.

Bear Lake Route

Daily Service May 25 - October 20, 2019
Runs between Park & Ride and Bear Lake
Leaves Park & Ride every 10-15 minutes from 7 a.m. to 7:30 p.m.
Makes stops at the Park & Ride, Bierstadt Lake Trailhead, Glacier Gorge Trailhead, and Bear Lake
Moraine Park Route

Daily Service May 25 - October 20, 2019
Runs between Park & Ride and Fern Lake Bus Stop
Leaves Park & Ride every 30 minutes from 7 a.m. to 7:30 p.m.
Makes stops at Park & Ride, Sprague Lake/Glacier Creek Stables, Hollowell Park, Tuxedo Park, Moraine Park Campground (C-Loop), Cub Lake Trailhead and Fern Lake Bus Stop
All information from www.visitestespark.com