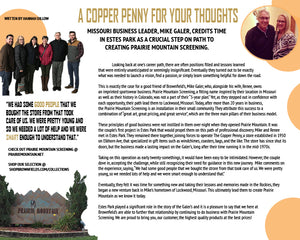 Behind the Scenes at Brownfield's - 2
A COPPER PENNY FOR YOUR THOUGHTS
Written by Hannah Dillow
MISSOURI BUSINESS LEADER, MIKE GALER, CREDITS TIME IN ESTES PARK AS A CRUCIAL STEP ON PATH TO CREATING PRAIRIE MOUNTAIN SCREENING.
Looking back at one's career path, there are often positions filled and lessons learned that were entirely unanticipated or seemingly insignificant. Eventually they turned out to be exactly what was needed to launch a vision, find a passion, or simply learn something helpful for down the road.
This is exactly the case for a good friend of Brownfield's, Mike Galer, who, alongside his wife, Renee, owns an imprinted sportswear business. Prairie Mountain Screening, a fitting name inspired by their location in Missouri as well as their history in Colorado, was not a part of their "5-year plan." Yet, as they stepped out in confidence with each opportunity, their path lead them to Lockwood, Missouri. Today, after more than 20 years in business, the Prairie Mountain Screening is an installation in their small community. They attribute this success to a combination of "great art, great pricing, and great service", which are the three main pillars of their business model.
These principles of good business were not instilled in them over-night when they opened Prairie Mountain. It was the couple's first project in Estes Park that would propel them on this path of professional discovery. Mike and Renee met in Estes Park. They remained there together, joining forces to operate The Copper Penny, a store established in 1950 on Elkhorn Ave, that specialized in gift items such as windchimes, coasters, bags, and the like. The store has since shut its doors, but the business made a lasting impact on the Galer's, long after their time running it in the mid-1970s.
Taking on this operation as early twenty-somethings, it would have been easy to be intimidated. However, the couple dove in, accepting the challenge, while still recognizing their need for guidance in this new journey. Mike comments on the experience, saying, "We had some good people that we bought the strore from that took care of us. We were pretty young, so we needed lots of help and we were smart enough to understand that."
Eventually, they felt it was time for something new and taking their lessons and memories made in the Rockies, they began a new venture back in Mike's hometown of Lockwood, Missouri. This ultimately lead them to create Prairie Mountain as we know it today.
Estes Park played a significant role in the story of the Galer's and it is a pleasure to say that we here at Brownfield's are able to further that relationship by continuing to do business with Prairie Mountain Screening. We are proud to bring you, our customer, the highest quality products.
---