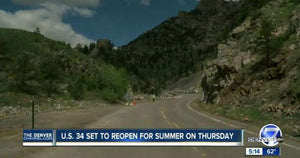 Highway 34 Opens for Brownfield's Big Day
CDOT gives U.S. 34 presentation to Estes Valley Partners for Commerce
Daniel West
POSTED:   04/27/2018 01:26:12 PM MDT
Representatives of the Colorado Department of Transportation gave a presentation to the Estes Valley Partners for Commerce at its member dinner Thursday, April 27, on the U.S. 34 construction project.
U.S. 34 Big Thompson Project Director James Usher gave a presentation and announced that the road would reopen Thursday, May 24, for the weekend prior to Memorial Day. He also reiterated that there will be no third closure of U.S. 34.
Usher gave some background on the damage the road suffered in the 2013 flood and elaborated on different techniques being used to increase the road's "resiliency."
Usher did say that further work on paving sections of U.S. 34 would continue this summer. However, he said that work would only take place during week days and not nights or weekends. Construction crews are currently working to get as much paving done before the road is scheduled to reopen.
---