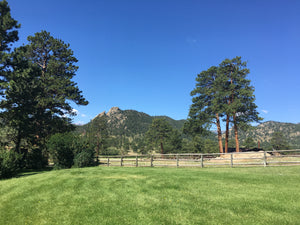 Making History Come Alive at MacGregor Ranch
Our own staff member, Debbie Richardson, is a Museum Docent for the MacGregor Ranch.  She can give us a peek into the rich history of the Ranch.

In 1873, Alexander and Clara MacGregor homesteaded the land that would eventually become their cattle ranch. They intended for the Ranch to be their summer home (as they lived in Denver), but in 1896, they built their year-round home.  This home is now the Museum.  Everything inside in the Museum belonged to the three generations that lived there.


Their middle son, Donald, and his wife, Maude, ran the Ranch from 1910 until their deaths in 1950.  Donald and Maude raised cattle, chickens and vegetables at the Ranch.  They also added tourist rental cabins and tents. Muriel, their only child, helped them with the Ranch and then ran it by herself from 1950 until her death in 1970.

Muriel had a very colorful history in Estes Park.  Muriel had three college degrees, and she was one of the first women attorneys admitted to the Colorado Bar. Due to her law background, her will stated that the entire Ranch be left in a trust run by five trustees, which is still the case today.  The Ranch is now also in an easement with the National Park System.  There are currently two paid staff members at the working Ranch and lots of volunteers.

Visitors may experience the Ranch Wednesdays through Saturdays from 10am to 4pm.  The Ranch is open to tourists from Memorial Day through Labor Day.  If you are a visitor to Estes Park, this is a wonderful place to experience the rich history of this wilderness area.  If you are summer resident, consider volunteering at the MacGregor Ranch.  They are always looking for volunteers to be a part of preserving this Estes Park treasure.
---