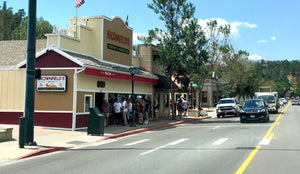 We love our customers!
On May 1, 2020, Larimer County issued the guidelines for retail businesses during the "Safer-at-Home" phase of dealing with the Coronavirus.  Nothing has changed regarding the requirements for businesses to operate while the threat of COVID remains.  Face coverings are required inside of all businesses, but not outside.  According to Larimer Country, retail establishments are allowed to operate if "open at 50% capacity and/or at a capacity that enables the retailer to maintain 6-foot distancing between customers and employees."  In compliance with the County requirements, Brownfield's has implemented the 50% capacity restriction within our business, as this is the only way to ensure customers 6-foot distancing.  Therefore, we have a friendly door monitor who counts the number of people in the building using an iPad mini counting app.  Though this would never be our choice, we are submitting to the requirements set forth by Larimer County in order to remain open and serve our customers. 
We have now spent hundreds of hours interacting with people patiently waiting to shop at Brownfield's.  We have not had one single negative interaction with anyone regarding the need to wait in line to enter.  People have been incredibly respectful of the face covering requirement in all Estes Park businesses as well as the capacity restrictions. People from all over the country have blessed this town with their presence in the midst of a pandemic and have continued to show us that they are the best customers in the world.
We want to publicly thank all of the people who have graciously stood in line.  We are humbled by the people who kindly, patiently and enthusiastically wait to shop in our store.  It's a gift to our team.
---