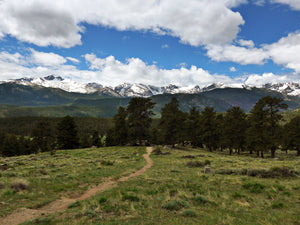 RMNP Reopening on May 27
Latest COVID-19 Update from Rocky Mountain National Park (www.nps.gov)
Rocky Mountain National Park Will Enter Phase Two of Reopening on June 4
On May 27, in accordance with guidance from the White House, Centers for Disease Control and Prevention (CDC), state and local public health authorities, Rocky Mountain National Park increased recreational access and services. In this first phase, from May 27 through June 3, the park has reopened many outlying areas and basic park road and trail access.
Park staff are evaluating the level of visitation and may meter access based on the level of visitation. This will be evaluated throughout each day. During these dates, visitors can only purchase entrance passes at entrance stations with credit cards. Visitors may be delayed entering or asked to return later if visitation and congestion warrants.
Phase Two - Timed Entry System Effective June 4
Rocky Mountain National Park is one of the most popular national parks in the country. To increase park access while providing the public a reasonable opportunity to comply with health guidelines, the park will temporarily implement a timed entry system effective at the beginning of Phase Two on June 4. The park will cease using this system in later phases of the reopening.
"We are eager to welcome visitors back to their national park," said Superintendent Darla Sidles. "This system will more safely manage the pace and flow of visitor use, reduce crowding, and provide an improved visitor experience in alignment with the park's safe operational capacity."
Reservations to enter the park will go on sale through Recreation.gov at 8 a.m. Mountain Time on Thursday, May 28. Reservations will be available to enter the park from June 4 through July 31. The next release will be on July 1, for the month of August and any remaining days that have not been booked for July. On August 1, reservations will be available for the month of September and any remaining days that have not been booked for August. On September 1, reservations will be available for the month of October and any remaining days in September that have not been booked.
Permits issued using the reservation system will allow park visitors to enter the park within two-hour windows of availability between 6 a.m. through 5 p.m. This process will facilitate advance payment of entrance fees, minimize contact between park entrance station staff and visitors and limit congestion in parking lots. The permit system will apply to all areas of the park.
In the initial opening phase, the park will open approximately 60 percent of the park's maximum parking capacity or 4,800 vehicles (13,500 visitors) per day.
View Frequently Asked Questions.
Health and Safety
When recreating, park visitors should follow local area health orders, maintain social distance, and avoid high-risk outdoor activities. Please do not visit if you are sick or were recently exposed to COVID-19. Park staff will continue to monitor all park functions to ensure that visitors adhere to CDC guidance for mitigating risks associated with the transmission of COVID-19 and take any additional steps necessary to protect public health.
Keep your distance.

 

Give others plenty of room whether you are on a trail or in a parking lot. If staying at least six feet from others is not possible, wear a cloth face covering as recommended by the CDC. Cloth face coverings should also be worn while in park restrooms.
Keep it with you.

 

If you brought it, take it with you. Trash pickup and restroom facilities will continue to be limited in many park areas. Follow Leave No Trace principles.
Know your limits.

 

Rocky Mountain National Park is one of the busiest search and rescue parks in the country. Many of these incidents could be avoided with visitors planning and making responsible decisions. Winter-like conditions exist in high elevation areas of the park. For example, Bear Lake currently has 14 inches of snow. It is critical to make wise choices to keep our national park rangers and first responders out of harm's way.
Protect wildlife.

 

Obey speed limits and be aware of wildlife. During the closure, due to lack of vehicular traffic, park rangers have observed more wildlife congregating adjacent to or on internal park roads.
Rocky Mountain Conservancy
Rocky Mountain Conservancy continues to offer Rocky-themed merchandise on their website.
---