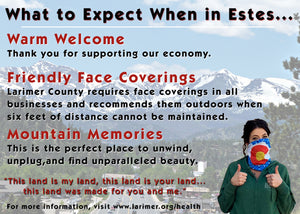 What to Expect when in Estes...
On June 16, 1858 more than 1,000 delegates met in the Springfield, Illinois, for a state convention. Abraham Lincoln, notably one of the most influential presidents in American History, delivered this address in the Hall of Representatives that evening and history was changed by the expression of one timeless truth. "A house divided against itself cannot stand." Nearly 162 years later, we stand at a crossroads faced with the same declaration and decision. Do we choose to stand together in unity or fall in division?
The Town of Estes Park, along with every town throughout the country, is carrying the weight of navigating uncharted waters in dealing with COVID-19 and its effects on all parts of humanity. There is no guidebook nor guarantees. We don't have the answers and we can't promise a perfect plan in response to this pandemic. The only thing we can do is remain steadfast in our efforts to achieve a balance in protecting our physical, mental, social, and economic health. It is a great balancing act, for if any one of these segments of our total health is compromised, it affects all other parts.
As discussions have ensued over the course of the past few weeks, it is obvious that safety extends beyond one's physical body. Not only is it critical that we as a town implement the necessary strategies to suppress the spread of this virus as required by Larimer County, it is also vital that we labor to suppress the spread of intolerance, judgement, criticism, and indecency. Estes Park must remain a safe place for all people, but this safety cannot be limited to one's physical health. It must be a safe place for diversity of thought, for American freedoms, for medical exceptions, for economic endeavors, and future sustainability.
It is important to remember that Estes Park holds a unique place in countless hearts. The vast majority of people protect what they love. Visitors and residents alike have proven their love and support for this land for over a century. Let's work toward the goal of continuing to flatten the curve by closely adhering to the Larimer Country orders and the guidelines issued by the state of Colorado. As importantly, let's commit to civility alongside of safety as we collectively come together to protect all people that have a heart for this remarkable community.
Our future depends on it.
---