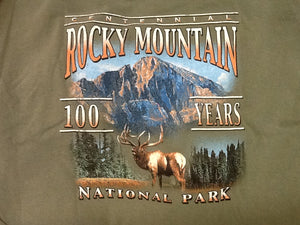 Celebrate the Centennial of RMNP
Rocky Mountain National Park
Centennial Celebration
For generations, Rocky Mountain National Park has inspired, delighted and amazed the guests who have entered into the park boundaries. In 2015, Estes Park will be joining Rocky Mountain National Park in celebrating their 100th anniversary with special events, educational series, live music and more. There is a lot to see and do this year, so we have compiled the top five ways to celebrate.
TOP 5 WAYS TO CELEBRATE ROCKY MOUNTAIN NATIONAL PARK'S CENTENNIAL IN ESTES PARK
1. Enjoy Summer Events in the Rocky Mountains   
It's considered a favorite season by many visitors, because as the sun warms the mountain valley, the trails become pathways to grand tundra views, aspen trees bud with bright green leaves and the village celebrates the season with fun events to honor the centennial of Rocky Mountain National Park!  Attend an official Centennial Event in Rocky Mountain National Park or Estes Park throughout the summer and fall. Plan a getaway during a signature summer event in Estes Park, a perfect complement to a weekend of play in Rocky Mountain National Park. Enjoy village atmosphere by dining fireside or shopping in the downtown stores and boutiques where you can pick up a variety of Rocky Mountain National Park centennial gifts for loved ones.    
2. Log 100 Miles 
Take the centennial challenge this year by hitting the trails and accumulating 100 miles of hiking on your favorite trails! Learn more about hiking in Rocky Mountain National Park and get recommendations on trails to start your 100 mile adventure! Before setting out, read up on the Top 10 Tips for hiking in Rocky Mountain National Park to be prepared for packing, safety and fun along the way!   
3. Learn Something New 
Attend a Rocky Mountain National Park ranger-led program where you walk side by side with a park ranger while learning all about the environment around you. Take an educational class with the Rocky Mountain Conservancy, or try a rock climbing lesson on some of Estes Park's world class granite walls and boulders.
4. Bring the Family
Everyone in the family can celebrate Rocky Mountain National Park's centennial, kiddos can become a Jr. Ranger, take fun educational classes and explore the kids and family activities in the village, ranging from mild to wild!
5. Cool Off by the Lakes 
Whether it is on foot or horseback, there are over 300 miles of trails to explore in Rocky Mountain National Park alone with many leading to some of the most pristine alpine lakes in the world! Try the family-friendly loop around Sprague Lake, the easy day hike to Mills Lake or the more challenging trek to Chasm Lake at the base of the famous Longs Peak! In the heart of the village of Estes Park, Lake Estes & the Lake Estes Marina offer great fishing, kayaking, stand up paddle boarding, boat rental and more! 
Visit the official Rocky Mountain National Park 100th Anniversary Celebration website for more information, events and activities: Wilderness, Wildlife, Wonder: Honor the Past, Celebrate the Present, Inspire the Future. 
Information From Visit Estes Park
---